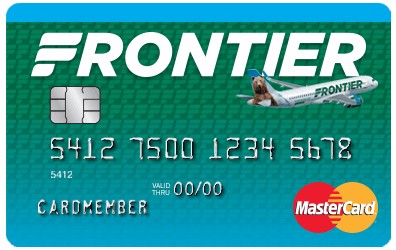 Thinking about getting a Frontier Mastercard? Here are some positives and drawbacks to the card.
In my opinion Frontier Airlines Mastercard is a get in and get out credit card!
Frontier Airlines is definitely putting on one of the best reward programs currently. You earn 40,000 points after you spend $500 in the first 90 days. For most people, it doesn't get much easier than that. Although there is a $69 annual fee that gets charged in the first month. Flights range from 10,000-30,000  points. So essentially you are getting 1-2 roundtrip flights for $69.
Positives:
-You can get up to 2 flights roundtrip
-You only have to spend $500 in 3 months in order to get the points
-0% APR for 15 months
-Free FICO score check up
-You get 2x points on frontier flights (if you keep the card after using the points)
-You can earn a $100 voucher every anniversary if you spend $2,500 per year (Keep in mind, you will have to pay another $69 annual fee)
Drawbacks:
-You have to pay the annual fee of $69 (so you're technically getting up to 2 flights for $69+fees listed below)
-There is a taxes/fee charge of $5.60 every time you book a flight ($11.20 for roundtrip)
-$15 booking fee if the ticket is purchased within 180 days of the trip.
-You can't book a flight for someone else with your miles unless you call and talk with customer service. They will try to charge you a booking fee, but if you tell them you "tried" online, they will sometimes waive the fee
-You can only use full miles or cash for each flight, you can't split between the two. For example, if you have 5,000 miles and the flight costs 10,000, you are unable to purchase a flight with your miles until you reach 10,000 miles on your card.
-Most flights cost more than 10,000 points unless you travel during the week and at very inconvenient times.
-You have to wait till the 3 month mark to be able to use the miles for purchasing a flight
-You only earn 1 mile per dollar spent on anything other than frontier flights. (most cards offer 1.25+ points)
-There are additional fees for everything (seats, carry ons, check bags, insurance, etc.) (But if you are able to just take a small backpack, and sit anywhere you can avoid all fees)
-You will lose your miles if you don't make a purchase with your card in 6 months
In my personal opinion, this credit card does have decent value for getting you cheap flights, especially if you can manage to only bring a backpack and sit anywhere on the flight. If you like to have a specific seat, need to check a bag, bring a carry on, and have the security of insurance, there are better reward programs out there that should fit your needs. Therefore, I say get the card, spend $500, and then once you have used all your points, get rid of it! 
The following two tabs change content below.
Emily is a blogger and aspiring van-dweller. She loves adventures such as hiking, camping, snowboarding and waterskiing. My goal is to give you the best advice on hikes and gear based on my first-hand experience.
Latest posts by Emily Schroeter (see all)