I recently got my first pair of Chacos sandals.  After much research and trying on different models, I decided to get the Men's Z Cloud. Which is essentially the original Chaco design, but with a softer footbed (I'll explain all the models below).  I'd heard good and bad things about Chaco's performance/comfort, and was excited to put them to the test. I'll admit that I was pretty skeptical that they could be used for substantial hiking. But after using them for all kinds of distances and conditions, I'm sold! Chaco's signature Z-strap system is a simple and elegant solution for sandal comfort, fit, and performance.
Putting Chacos to the Test
I initially planned on using them around camp, at the beach, or for shorter (1-5 mile) hikes.  I had worn them lightly a few times, and was anticipating a painful adjustment period. After a few short hikes (1-3 miles), except for the occasional rock wedged between my foot and the footbed, I didn't experience much discomfort.  Encouraged by these short trial runs, I was ready to take them on a longer hike (8 miles). I didn't want to fully commit to the Chacos for 8 miles so I even brought an extra pair of shoes. I was worried that blisters would become unbearable at some point, and I would switch to shoes.  Around mile 7 the strap on the left sandal was beginning to rub at the base of my big toe. But with only a mile left, I decided to finish the hike in my Chacos. I'm happy to report that no true blisters were left after the hike. Since then, I've only had issues with hikes over 10 miles, significant incline/decline and wet conditions. However, those conditions will challenge any type of footwear. So I believe that Chacos perform very well in terms of comfort and performance, especially for a sandal. I've also found that wearing socks with them can prevent blisters or at least delay them. I know, socks with sandals is a crime, but it works!
Since then, I have used them endlessly for adventures in all kinds of conditions.  They provide a unique combination of comfort and ruggedness. My feet stay cool and comfortable, but I still have great traction and support.  The Z strap system is far superior to the other types of sandal designs, like Tevas and Keens. I find that the Z strap is delightfully simple and efficient.  It has only the material you need, nothing more and nothing less. The Chaco straps dry much faster than the velcro of Tevas or the fully webbed enclosure of Keens.  And the straps don't have a rigid shape, so they contour and move with your foot. This means way less blisters than the competition. And no awkward "break in" period.  The soles are comfortable, supportive, and sturdy, so I've had no problems taking them on rough or challenging terrain. Emily and I even used them on the a climb down a 200 foot cliff! Check out the video below.
Pros
Durability – Chacos are like the cast iron skillet of sandals. Sturdy and long lasting.
Simplicity – Less components/material to fail, or cause blisters.
Comfort – They keep feet cool and comfortable.  
Support – They provide amazing arch support and have a thick sole.
Traction – They have great grip for wet and dry conditions
Quick Drying – The rubber sole doesn't absorb water, and the straps dry fairly quickly
Swim Ready – They will stay on your feet if you take them swimming (although they're a bit cumbersome)
Cons
Weight – My pair (9 US mens) weighs 30.8 oz (more than an average pair of running shoes)
Blisters – The chance for blisters is always high with sandals, especially when wet.
Protection – Your feet can be vulnerable to cuts and stubs (Not exclusive to Chacos)

Cost – They are not cheap for a pair of sandals, but they definitely return value
Debris – Occasional rocks and sticks can get wedged under your feet
There is one quirk about caring for Chacos that some may find annoying.  If you get sand or rocks in the part where the straps pass through the soles, you need to "floss" the straps to remove the debris.  Luckily, this usually only occurs when walking through sandy or rocky waterways. If the straps dry with debris lodged in the soles it will make it very difficult to adjust the straps in the future.  The "flossing" doesn't take long, but it does require pretty decent strength. And after a long day of adventuring, the last thing most people want to do is wrestle with their sandal straps.
Choosing a pair of Chacos
Chacos has come out with tons of variations on the original Chaco, and it can be confusing.  They have even expanded to shoes, boots, flip-flops, etc. but I am going to strictly be talking about the original "Z strap" Chaco and its close variations.  So let's break down their naming system to help you choose which Chacos are right for you. Let's start from the top of the sandal and work down.
Straps
All Chacos that have the Z-shape strap system will have a "Z" in the name. Within the "Z" class, there are several variations.
If there is the number 1 or no number in the name, such as "Z1 / Classic" or "Z / Cloud", then it has the original Chaco strap system (3 large diagonal straps in front of your ankle, and one strap behind your heel).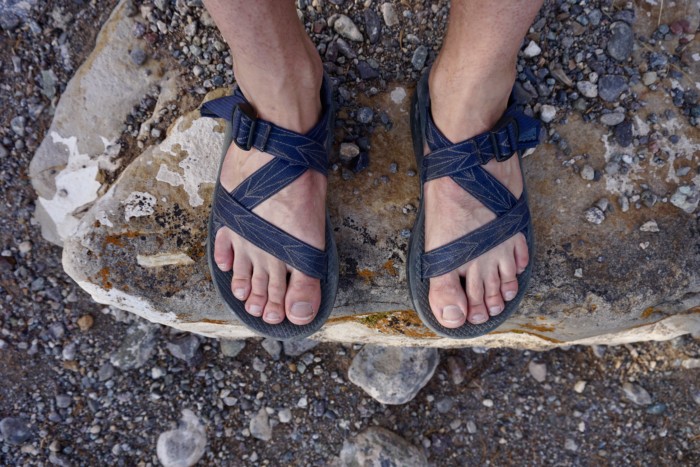 If the name contains the number 2, then it has all the straps mentioned above plus a dedicated big-toe strap. The idea behind the big-toe strap is to make your foot even more secure.  This is especially helpful when hiking lots of decline. Emily has a model like this and loves the added security, but admits that it takes a little bit more time to get the fit just right. If you don't plan on hiking lots of elevation in your Chacos, you may find (like me) that you have plenty of security without the big-toe strap. But it may be worth trying on both and just choosing your preference.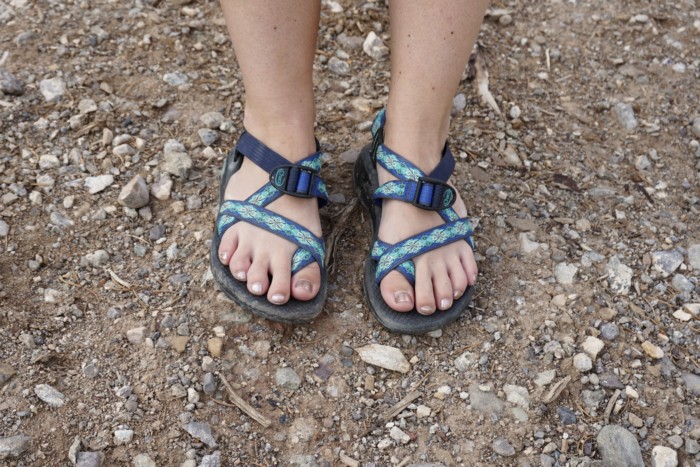 The strap system is subdivided again into the "X" type and Mega.  The "X" models have 2 skinny straps side by side and are almost exclusively for women.  Such as the "ZX / 2 Classic", "ZX / 1 Classic", etc. Women tend to find the "X" models more fashionable and less utilitarian looking than the single strap models.  Although it may require a little more work to adjust 2 straps versus 1, this is mostly just a style preference. (It is possible to get an "X" model in men's if you custom design it at Chaco's website).  The Mega models basically just increase the strap width of the original Chaco from about 25mm to 35mm, and replace the plastic ladderlock buckle with a metal one. Haven't been able to find much information about why Chaco introduced Mega, but again I believe its mostly just a style preference.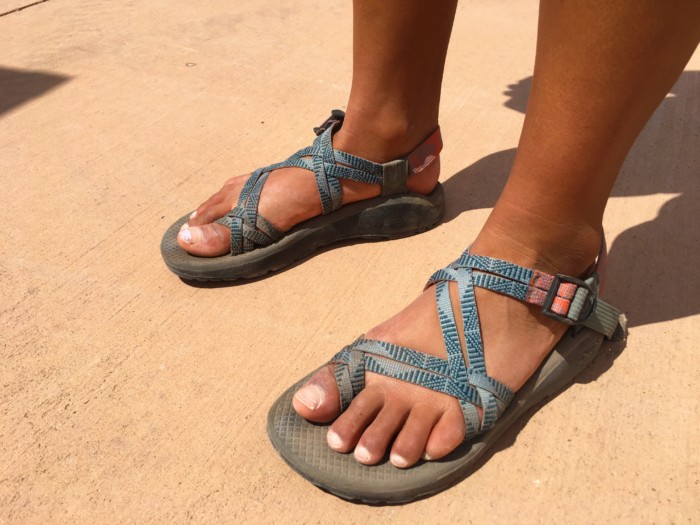 Footbeds
There are 3 main types of footbeds: "Classic", "Cloud", and "Volv".  The "Classic" refers the standard, most durable rubber model. The "Cloud" sole has the classic on bottom and a softer comfort layer added to the top of the footbed.  You gain some immediate comfort, but they are not quite as durable as the "Classic". The last type is "Volv" which is 20% lighter than the other two models. It has less intense arch support and due to the softer rubber will inevitably be the least durable of the three.
Outsoles
Chaco offers several different treads for different uses.  The most popular is their proprietary ChacoGrip, which has a 3.5mm lug depth and boasts versatile traction for hiking, walking, and wading in both wet and dry environments.  The second outsole is the EcoTread, which is made from 25% recycled rubber, is lighter, but provides less traction, support, and durability. This tread is geared more towards "around-town" use than on trails or rivers.  Chaco also has two Vibram® soles that can only be purchased when designing custom sandals on Chaco's website.  The Vibram® "Colorado" is a "lightweight, low profile sole that maximizes surface area for excellent traction in slick environments."  The Vibram® "Terreno" has the deepest lug depth of any model, at 4.5mm. It's mostly geared towards hiking rocky trails.
Sizing
Lastly, you need to decide what size and if you want a regular or wide width sole. Most people report that Chacos fit true to size.  But it's still wise to go try on a few models at a local outdoor retailer, before buying. We found that Chaco's tend to be cheaper on Amazon than in stores.
Verdict
I have the "Z / Cloud" model and I absolutely love them!  They are super comfortable, but don't sacrifice performance.  They make a perfect complement to a pair of hiking shoes or boots, because they let your feet air out.  Because of the generous support, and contouring straps they are the best option for a hiking sandal you can buy.  I opted for the model with the single large straps and no dedicated toe strap. I've heard arguments both for and against the toe strap, and ultimately just decided to stick with the original Chaco design.  You will get occasional debris stuck under your foot, but that's a problem with nearly any sandal. They have quickly worked their way into my footwear rotation, and often times I prefer them to shoes or boots.  They provide relaxed comfort for just hanging out at camp or at the beach, but also perform well on moderate hikes in dry or wet conditions.
If you found this information helpful and want to help support our blog, you can purchase Chacos through our affiliate links.  Below I have listed some of the most popular models, grouped by gender.
Men's
Z1 Classic (The Original Chaco)
Z Cloud (The pair that I have)
Z Volv (Lightweight)
Women's
Z1 Classic (The Original Chaco)
Z2 Cloud (The pair that Emily has)
This post contains affiliate or referral links which means we may earn a small commission if you purchase or download from our links at no additional cost to you! These commissions help offset the cost of hosting our site. We only recommend products that we love ourselves and feel that our readers will love too. Two Roaming Souls is a participant in the Amazon Services LLC Associates Program. For more information about our business practices and our emphasis on moral integrity please read our disclosure policy. Thanks!
The following two tabs change content below.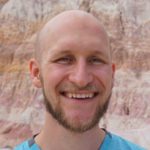 Jake is web-developer, blogger, photographer, videographer, and audio curator. He loves hiking, backpacking, camping, skiing, planning adventures, going on said adventures, music, and diy projects. He is an aspiring full-time traveler.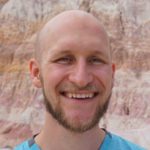 Latest posts by Jake Junda (see all)